Explore Earth one billion years in the future in the science-fantasy setting of Numenera. Discover the Ninth World built on the bones of eight advanced civilizations and leave your own mark on it. Make thousands of essential choices, face the consequences, and meet death incarnated as you seek the answer to the ultimate question: What does one life matter?
Torment: Tides of Numenera is a thematic successor to Planescape: Torment, one of the greatest computer RPGs ever created. The new game explores similar deep and personal themes of life, mortality, and sacrifice, challenging players to take intellectual stances and make moral decisions.
Features
Deep & Challenging Story
Earth One Billion Years Later
Meaningful Choices & Consequences
Handcrafted Conflicts
Day One Edition
"A singular story about the very nature of human beings" - Eurogamer
"It's bloody well written" – Polygon
Collector's Edition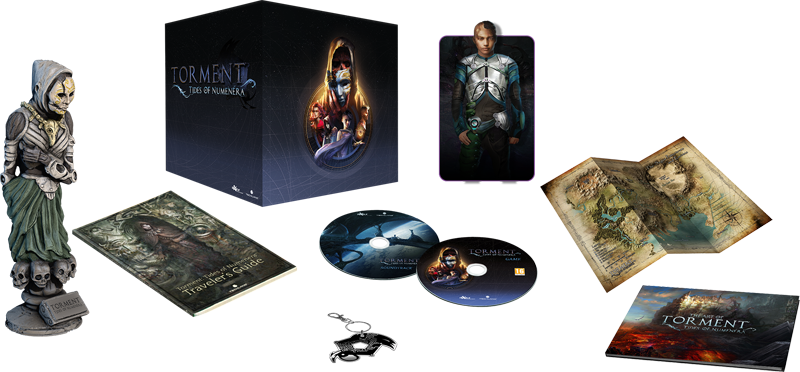 Digital Deluxe Edition
With Exclusive Printable Pack
Available Only on BOXOFFSTORE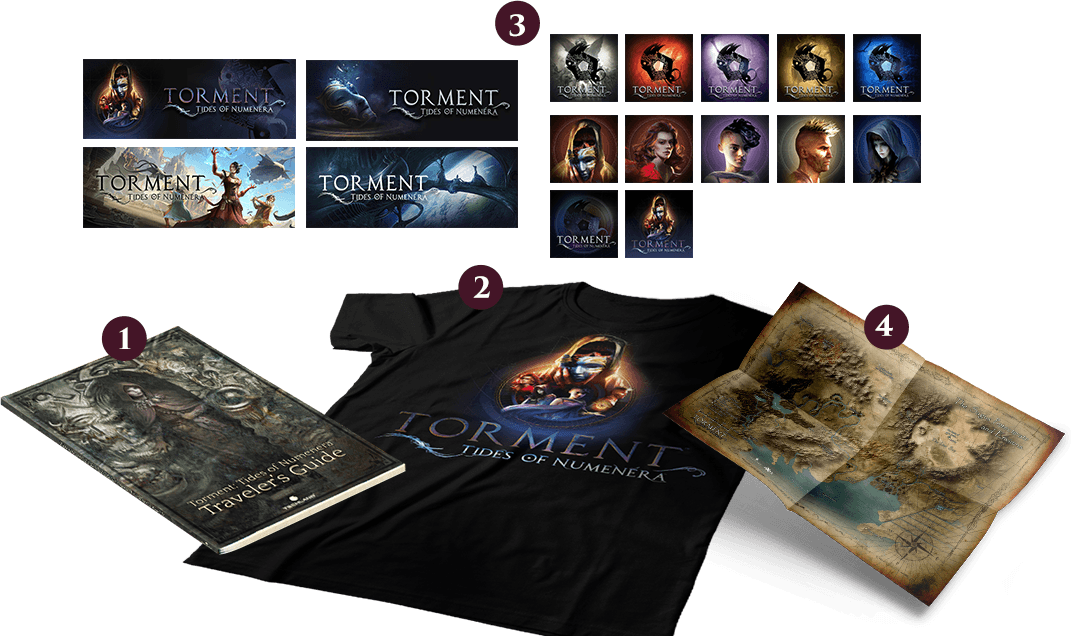 Traveler's Guide - A stranger in the Ninth World needs all the help they can get. Embark on your journey through the world of Numenera wiser and well prepared thanks to this exhaustive guide.
T-shirt Design - Become the apostle of the Changing God and wear your custom t-shirt with pride.
Forum Signatures & Avatars - Spread your love for the game throughout the web.
World Map - Take a good look at all the nooks and crannies of the Ninth World in this detailed world map.
[{"code":"al_AL","release":"01.01.1970","name":"Albania"},{"code":"au_AU","release":"27.02.2015","name":"Australia"},{"code":"at_AT","release":"27.02.2015","name":"Austria"},{"code":"by_BY","release":"01.01.1970","name":"Belarus"},{"code":"fr_BE","release":"27.02.2015","name":"Belgium"},{"code":"ba_BA","release":"01.01.1970","name":"Bosnia"},{"code":"pt_BR","release":"27.01.2015","name":"Brazil"},{"code":"en_CA","release":"27.01.2015","name":"Canada"},{"code":"gr_CY","release":"01.01.1970","name":"Cyprus"},{"code":"cz_CZ","release":"01.01.1970","name":"Czechia"},{"code":"dk_DK","release":"27.02.2015","name":"Denmark"},{"code":"fi_FI","release":"27.02.2015","name":"Finland"},{"code":"fr_FR","release":"26.02.2015","name":"France"},{"code":"de_DE","release":"01.01.1970","name":"Germany"},{"code":"gr_GR","release":"01.01.1970","name":"Greece"},{"code":"hu_HU","release":"01.01.1970","name":"Hungary"},{"code":"il_IL","release":"01.01.1970","name":"Israel"},{"code":"it_IT","release":"27.02.2015","name":"Italy"},{"code":"al_XK","release":"01.01.1970","name":"Kosovo"},{"code":"mk_MK","release":"01.01.1970","name":"Macedonia"},{"code":"es_MX","release":"27.02.2015","name":"Mexico"},{"code":"me_ME","release":"01.01.1970","name":"Montenegro"},{"code":"nl_NL","release":"27.02.2015","name":"Netherlands"},{"code":"en_NZ","release":"01.01.1970","name":"New Zealand"},{"code":"no_NO","release":"27.02.2015","name":"Norway"},{"code":"pl_PL","release":"30.01.2015","name":"Poland"},{"code":"ro_RO","release":"01.01.1970","name":"Romania"},{"code":"ru_RU","release":"01.01.1970","name":"Russia"},{"code":"ar_SA","release":"01.01.1970","name":"Saudi Arabia"},{"code":"rs_RS","release":"01.01.1970","name":"Serbia"},{"code":"sl_SL","release":"01.01.1970","name":"Slovakia"},{"code":"za_ZA","release":"01.01.1970","name":"South Africa"},{"code":"es_ES","release":"27.02.2015","name":"Spain"},{"code":"se_SE","release":"27.02.2015","name":"Sweden"},{"code":"ch_CH","release":"01.01.1970","name":"Switzerland"},{"code":"en_UK","release":"27.02.2015","name":"UK"},{"code":"en_US","release":"01.27.2015","name":"USA"}]